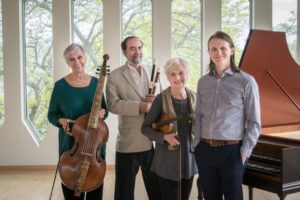 October 6, 7:30 p.m.
Marilyn McDonald – baroque violin
Michael Lynn – recorder & baroque flute
Cathy Meints – baroque cello & gamba
Mark Edwards – harpsichord
The internationally renowned ensemble consists of faculty of the Historical Performance Department of the prestigious Oberlin Conservatory of Music. The group performs on period instruments and has recorded for VOX and Gasparo Records, and is the ensemble in residence for the annual Baroque Performance Institute each summer at Oberlin.
This evening of world-class early music is made possible in large part by a generous gift from Urton and Debbie Anderson.